Tika Sumpter Calls Out North Carolina Government Officials After Mom Is Arrested for Overdue Library Book
November 15, 2016
Tika Sumpter and her mother (@tikasumpter/Instagram)
http://atlantablackstar.com/20...verdue-library-book/
Missing24 Launches Boycott After White Atlanta Club Owner Calls V-103 'A Racist Station'
November 15, 2016
Cop Caught Dashcam Raping Women, Arrested AGAIN For Raping Another Woman
Accused serial rapist Christopher Odom.
AFRICANGLOBE – Chili's Grill and Bar advertised free Veterans Day meals for service members. But not for Black U.S. Army veteran Ernest Walker and his service dog.
For his free meal on Veterans Day, Ernest Walker picked the Chili's Grill and Bar in Cedar Hill tells Dallas News. The 47-year-old sat at a table and ordered a burger while his service dog waited by his side. In a widely shared Facebook post we can find out what happened next:
I ordered the waitress was wonderful. It took about 35 mins for meal to come. So when it attived I gave her a Tip as asjed for a take out.

She said sure, at that point a old white guy wearing a Trump flag shirt walked buy me on hi way to the bath room. He came back and aked me what unit did i serve in the 24th. I said no the 25th.

He said he was in world war 2 in Germany and we did not see people like you over there. They would no allow Blacks.

I just listened he left then came back to bathroom again and pet my dog. So waitress put foid in container.

Then the managers comes and says a somes guest at the restaurant say that your not a real Soldier. I reply what are you serious what guest.

The manager Wesly Patrick said can I see military ID. I felt that was reasonable I most people ask for that so I shoed him my ID it checked out.
At that point all he should have said was 'Sir I am sorry Thank you for your service and I would have left.

But instead ge says ' tbe guest also says that your service dog is not a service dog. Now that's when igot upset and started Recording so see for yourself what happened
Also there is a video of a confrontation with a manager who refused to honor the Veterans Day deal.
He elaborated in a follow-up post:
I was approached by an old white guy, maybe in his 70s, with a Trump Shirt, at Chili's on Veteran's Day yesterday. He asked if I was in the 24th unit, and I said "no the 25th". TRICK QUESTION. He said he was in Germany, and that they did not let Blacks serve over there. He left to the back, and came back and rubbed my dog Barack, who is a service dog. I was seated and eating my food. The waitress packed the rest of my food in a to go box because I had to go pick up my wife. I got my food and tipped the waitress. Then the Manager, MR. Wesley Patrick, comes from the same area in the back, walked up, and rudly informs me that a guest said that I was not a real soldier because I had my hat on indoors. Other guests heard him. He asked for my military ID, I was calm, and provided it to him. I also provided him with my DD214 which is my discharge paperwork. At that point he should have just said "I am sorry Sir, thank you for your service' Instead he followed up with "the guest also said your dog is not a service dog." Barack had his Red Service Vest on, and his Certified Service Tags. I was sitting for 35 minutes prior with Barack beforehand. At this point I was grossly offended embarrassed dehumanized and started Recording…Mr. Wesley snatched my food away, made body contact.
Angry protesters gathered outside the restaurant was hardly what the Cedar Hill Chili's expected after offering complimentary meals to veterans in honor of Veterans DayFriday.
Accourding to Boing Boing Chili's apologized in a public statement and a meeting is planned with Walker and his attorney. A company spokesperson released this statement:
Our goal is to make every guest feel special and, unfortunately, we fell short on a day where we serve free meals as a small token to honor our Veterans…We are taking this very seriously and the leaders in our company are actively involved with the goal of making it right.
Walker's attorney, Kim Cole, says she is meeting with Chili's general counsel Monday, and one of the company's attorneys has apologized.
"She felt really bad that Mr. Walker had this experience," said Cole.
Good news: Thousands of people offered their support for Walker on his Facebook page, with many soldiers saying they would boycott Chili's in solidarity while hundreds excoriated Chili's on its Facebook wall.
So far Chili's has not issued word on what, if anything, will happen to the manager, but Walker says he needs to be 'reprimanded or fired.' This is the only fair treatment for people who hate their protectors because of the color of the skin.
By: Ken Patterson
White supremacists think their man won the White House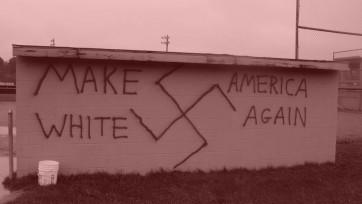 The Southern Poverty Law Center is monitoring reports of racist harassment and intimidation in the wake of the presidential election.
Hatewatch Headlines 11/15/2016
Trump 'surprised' by attacks on minorities; White nationalists happy about Bannon; Confederate flags at California parade; and more.
Talking Points Memo: On 60 Minutes, Trump is 'surprised' to hear of attacks on minorities, says he'd tell them to 'stop it.'
Slate: Trump's selection of Stephen Bannon puts white nationalism in the White House, and proves he meant his racist rhetoric.
Media Matters: White nationalists love Trump's Bannon hiring: 'With Trump, every day is Christmas.'
Salon: Trump is scheduled to appear on Alex Jones's conspiracist radio program to thank his audience.
Right Wing Watch: Five reasons why Ben Carson should never become the Secretary of Education.
Washington Post: 'I've never seen anything like that': Confederate flags at California Veteran's Day parade.
Dallas Morning News: A black man got a free Veteran's Day meal at Chili's in Cedar Hills, then a manager took it away.
Hartford Courant (CN): East Windsor video showing partygoers in KKK outfits, waving Trump signs, spurs probe.
ClickOnDetroit: Ann Arbor police says woman forced to remove hijab after man threatens to set her on fire.
Raw Story: Pro-Trump letters warns minorities to leave small Massachusetts town or die.
Indianapolis Star: Indiana church vandalized with racist, pro-Trump slurs.
Think Progress: 'Whites only,' swastikas, and fake deportation letters are just some of what we've seen since the election.
Hatewatch Headlines 11/14/2016
Trump vows to promptly deport 3 million immigrants; Social media let fringe voices thrive in election; Muslim teacher told to hang herself; and more.
CBS News: President-elect Trump says he'll deport up to 3 million immigrants immediately.
The New York Times: Minorities worry what a 'law and order' Donald Trump presidency will mean for them.
The Globe and Mail (UK): The real reason Trump won the election is that the U.S. has a white extremist problem.
The Atlantic: Trump's most fringe supporters found a voice and an audience on mainstream social media sites.
Imagine 2050: Ten policies to expect from Trump's anti-immigration agenda.
Washington Post: Mistrial declared for officer who killed a black man while wearing a Confederate flag shirt.
Philly.com: White students shouting 'Trump! Trump! Trump!' assault black woman, hate crime investigation under way.
Atlanta Journal-Constitution: Muslim schoolteacher in Gwinnett, Ga., told to hang herself with her headscarf.
The Joplin Globe (MO): Two men arrested in October assault on Muslim woman in Noel park, accused of putting gun to her head.
The Record-Eagle (Traverse City, MI): Police officer suspended for driving in pickup decorated with large Confederate flag.
WUSA9-TV (Baltimore, MD): Maryland middle school hit with swastika graffiti on walls.
The Missoulian (MT): American Nazi Party recruitment fliers show up on Missoula doorsteps.
Raw Story: History teacher suspended for lesson showing 'remarkable parallels' between rise of Trump and Hitler.
University Herald (Madison, WI): University of Wisconsin bans nooses, ropes from events after ugly incident with Obama costume.
Mail Tribune (Medford, OR): White supremacist David Bartol sentenced to death for fatal stabbing of fellow inmate.
Hatewatch Headlines 11/11/2016
Hate crimes hit the day after election; Alt-Right eyes official Trump positions; O'Reilly warns of 'civil war'; and more.
NBC New York: 'Rash of hate crimes' around the country reported the day after Trump is elected.
Washington Post: The Alt-Right supported Donald Trump, and now it wants him to satisfy their demands.
Talking Points Memo: Trump's white nationalist backers train their eyes on elected office, administration posts.
Right Wing Watch: League of the South hails Trump, wants 'no mercy' towards 'Jews, minorities, and anti-white whites.'
Access ADL: Militia extremists react to Trump victory with celebration – and anger at protesters.
Media Matters: Bill O'Reilly claims anti-Trump protests are a sign 'there's a civil war brewing.'
Think Progress: Anti-LGBT groups are positively giddy about a Trump presidency.
BuzzFeed: Alt-Right trolls are already emboldened by Trump's victory.
Raw Story: Trump fans film themselves driving through women's college and harassing black students.
Crooks and Liars: Students proudly shout 'white power' while marching with Trump signs at Pennsylvania school.
Lehigh Valley News (Easton, PA): Black high school students subjected to yells of 'cotton picker' and 'Heil Hitler.'
The News Observer (Raleigh, NC): Ku Klux Klan group announces 'victory parade' to celebrate Trump election.
Accidental Bear: Starbucks joins program to offer safe haven to LGBT people from hate crimes.
Salon: North Carolina voted against its anti-LGBT 'bathroom' law on Tuesday, but it probably won't matter.
HATEWATCH
Overnight, the radical right celebrated the election of Donald Trump whose campaign brought attention to their issues not seen in decades. Some even claimed that a white revolution had begun.
HATEWATCH
Derek Black, whose father founded the hate forum Stormfront, changed his name, publicly rejected white nationalism and cashed in a bequest from a wealthy racist—all during one long weekend in July 2013.
NEWS
In response to the high levels of anti-Muslim extremists regularly provided a platform in the media and in the public eye, the Southern Poverty Law Center has partnered with Media Matters for America, ReThink Media and the Center for New Community to provide a resource on anti-Muslim public figures for reporters and media professionals.