Tony Terrell Robinson was shot dead by Madison police. This is how it happened
Exclusive: Many questions remain about the shooting of the Wisconsin 19-year-old, but accounts from close friends and family paint a picture of a young man turning his life around who needed help that night – and instead wound up another young man of color whose life was tragically cut short
Tony Terrell Robinson was born into poverty and spent the last moments of his life bleeding from a gunshot wound, surrounded by no one but local police officers on the porch of his shared apartment.
At around 6.30pm last Friday, Madison police officer Matt Kenny forced entry into the house where Robinson had been living for the past few months with two of his friends. He was responding to a series of 911 calls about a young man behaving erratically, possibly violently. Shots were fired. A few minutes later, a witness says she saw officer Kenny and another officer dragging the limp, bloody body of the biracial 19-year-old out on to the porch.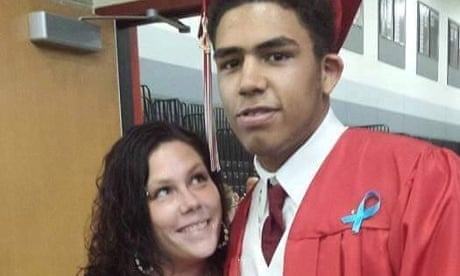 The details of what actually happened that night are only now starting to emerge. The Guardian has spoken to witnesses who say hallucinogenic drugs played a role in Robinson's strange behavior that night, and that at least one of the people who called 911 was a friend reaching out to police in the hope they would come to help Robinson deal with the episode.
Police say Robinson was acting violently before the shooting, and had knocked Kenny to the ground before he was shot.
Meanwhile, the community has erupted in protest, as young people marching under the banner of the Black Lives Matter movement again question why lethal force had to be used against a young person of color who had no weapon himself. They are describing the death as murder, and calling for justice to be served.
'He needed help and they just took him'
Williamson Street, on the east side of Madison, is affectionately known to its diverse residents as "Willy Street". It is lined with an array of progressive shopfronts: vegan cafes, a co-operative grocery store and a social justice centre.
Outside No 1125, a memorial sits by the roadside. Foil balloons wilt off a bare tree; a skateboard deck lies in the dirty melting snow, "Rest in paradise" etched on its base in blue marker. "Think before you pull the trigger" reads a sign tacked to a pillar.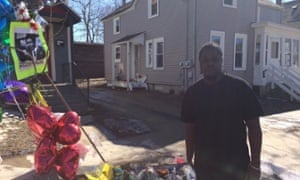 Melvin Ivy stands next to the shrine outside the Madison apartment where Robinson was killed. 'There was no reason for it to transpire the way it did,' he told the Guardian. Photograph: Oliver Laughland for the Guardian
Melvin Ivy stood outside the apartment. The door was ajar and the blood-soaked walls and floor of the stairwell could be seen. The cleaners were coming to wash it all away, but Ivy, a 34-year-old bartender and musician who lived here on occasion and acted as head of household to the three teenage residents (Robinson's name was not on the lease, but he had been living there since December), said none will return.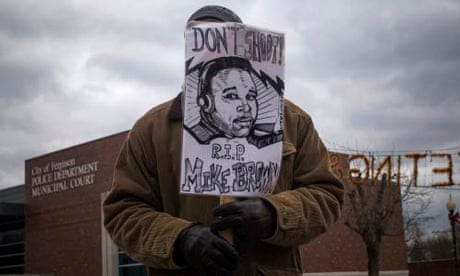 Ivy was an uncle to Robinson's two roommates, 18-year-old Javier Limon and 19-year-old Anthony Limon. It was Javier, Ivy says, who placed a call to 911 on Friday evening alerting the police to Robinson's erratic behavior.
"He just wasn't acting right, he wasn't being himself and Javier noticed it," Ivy said. According to his account – Ivy was out of town when the incident occurred but is in close contact with both his nephews – Javier was on his way to a local basketball game and called police to ask them to assist his friend, who he described as unarmed, not trying to hurt anybody but in need of help.
According to Craig Spaulding, the father of another of Tony's close friends and also in contact with the Limon brothers, Robinson had chased the car Javier was in as he headed off to the game, prompting the 911 call.
"There was no reason for it to transpire the way it did," Ivy said, adding that both the Limon brothers are in shock and have moved out of the city temporarily.
Earlier in the day Robinson had been out with a small group and had eaten magic mushrooms, according to a friend who was present at the time.
The friend, who had known Robinson for five years and whom the Guardian has chosen not to identify, said Robinson was inexperienced with hallucinogens and had consumed a large quantity. "He had no clue what he was in for.
Realistically, he needed someone to sit him down and tell him that everything was OK," the friend said.
Robinson returned to Willy Street at around 5pm after playing on the ice at Governor's Island.
"He was in a place in his head that no one else in the world, in the universe could have understood but him," said the friend, who still seemed traumatised by the events. "You have one person [Robinson] who was so fucking gone, and another man [Kenny] who was trained and capable of reason. And they killed him ... He needed help and they just took him."
Neither Madison police nor the state department of justice, who are investigating the matter, would comment on Robinson's alleged drug-taking before the event and declined to comment on all of the Guardian's detailed questions surrounding witness testimony. (The justice department's division of criminal investigation is due to report its findings in two weeks.)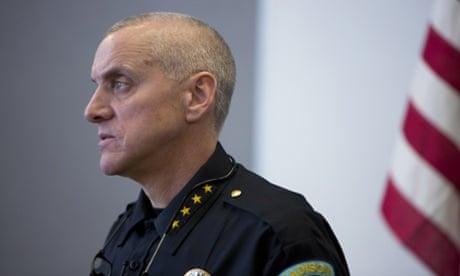 According to radio audio posted online in the days after the incident, the first 911 call came in around 6.30pm. The police dispatcher describes Robinson as "yelling and jumping in front of cars", later adding: "Tony hit one of his friends ... no weapons seen." It is unclear if the audio has been edited, but it appears that two further 911 calls were made reporting an assault within the two subsequent minutes.
An anonymous witness has since come forward to local TV news
alleging he had been punched by Robinson outside a restaurant opposite the apartment.
The audio suggests that Robinson then returned to the apartment, with Kenny arriving at the scene within about four minutes of Limon's initial call.
Three eyewitnesses present on the street either at the time of the shooting or in the immediate aftermath told the Guardian that Kenny's patrol car did not have its rooftop siren lights on at the time of his arrival.
What happened next remains unclear, but according to the police account the officer heard a "disturbance" inside the apartment and forced entry.
Both Ivy and other sources with knowledge of events told the Guardian that no one else was present in the apartment at that time, raising questions about the nature of the disturbance heard before entry was forced.
The police account states that Kenny was assaulted before he opened fire, withMadison police chief Mike Koval telling reporters that the officer was knocked to the ground after a blow to the head. The dispatch audio indicates just 18 seconds elapsed in the time between his arrival and shots being heard.
Marshall Erb, a 27-year-old insurance worker who lives in the apartment next door, rushed to the window after he heard the shots. He told the Guardian that "gurgling and choking" noises could be heard, but he couldn't see from where.
Kenny had begun giving CPR to Robinson, Koval said, before another officer arrived at the scene. "Police were swarming quick," Erb said.
Olga Ennis, a 43-year-old retail associate who lives across the street and knew Robinson well, remains traumatised by what she saw next.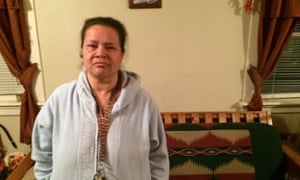 Neighbor Olga Ennis: 'I watched them drag his body out of the house. That image is not leaving my head.' Photograph: Oliver Laughland for the Guardian
"I watched them drag his body out of the house," she said. "That image is not leaving my head, and it's really killing me inside right now. I watched them drag him out like a piece of garbage."
Police say Robinson died after arriving at a local hospital, but Ennis disputed this.
"He was put on a gurney and he was lifeless," she said. "He died at the house. He didn't die at the hospital."
Ennis described herself as a de facto aunt to Robinson. She, along with many other residents of Willy Street interviewed by the Guardian, described him as a friendly young man who loved to skateboard with his friends around the area.
A turnaround, cut short
The massive outpouring of anger and love for Robinson in the days since his death contrast starkly with the challenges that he faced since his earliest days. His mother was only 17 when she gave birth to him, and his father was largely absent, in and out of prison for much of Tony's childhood.
"Terrell grew up with no structure," Turin Carter, his 24-year-old uncle, told the Guardian, explaining that little things such as regular meal times "help mold the child's identity and help him know right from wrong".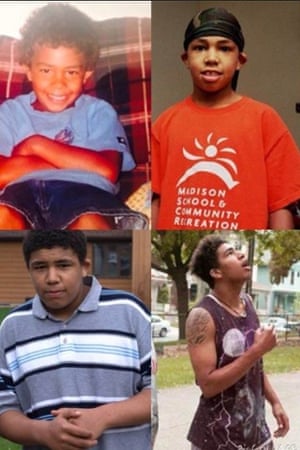 Tony Robinson in childhood photos. Photograph: Robinson family
When he was five, Robinson's family moved to Stoughton, a smaller, rural community several miles outside of Madison. "Absolutely there's racism that's happening in Madison," Carter told the Guardian. "But in Stoughton, it's on the next level." Carter says that white parents wouldn't allow Robinson to play with their children. "So that cemented his issues in terms of wanting to fit in, and him wanting to be loved so bad."
Four years later, Robinson, his younger siblings and his mother returned to Madison, first to a neighborhood on the west side, Allied Drive, that Carter characterizes as "the hood". A few years later the family moved again, to the opposite side of town, closer to family.
In his early teens, Carter says, Robinson effectively became the man of the house. But the instability and the ordinary angst of adolescence were compounded by changing three different high schools before he graduated from Sun Prairie high school, in another largely white community outside of Madison.
Nearly half of Madison's African American students fail to graduate on time there, but Robinson finished early.
But in April , Robinson participated in a home invasion along with four others. In December, he was sentenced to three years' probation, and people close to him say he had committed to turning his life around, discussing plans to attend community college and a potential move to New York, where he could be closer to Carter.
One place where Robinson did establish ties was within a skateboarding group that dubbed itself the "Splash Nation". According to the same friend who shared some of Robinson's final hours, the group "knew Madison like the back of their hands" because they skated everywhere together.
The community is still reeling from Robinson's death. Many questions remain unanswered, and protesters have vowed to continue mobilising on the issue.
For Carter, who remained a mentor to Robinson throughout his life, the tragedy is almost too much. He weeps every night but still gets on the podiums to address the thousands of protesters who march in Robinson's name. He told the Guardian how Robinson had nearly changed his life's trajectory.
"I could not imagine somebody's death impacting my life more profoundly," Carter said. "There is something so beautiful about a black kid, especially in America, trying to make it against all odds and fucking up so bad, but then actively trying to better his situation and become a better person. He was so close. He was so close."