60 Stunning Photos Of Women Protesting Around The World
Never underestimate the power of a woman -- or 100.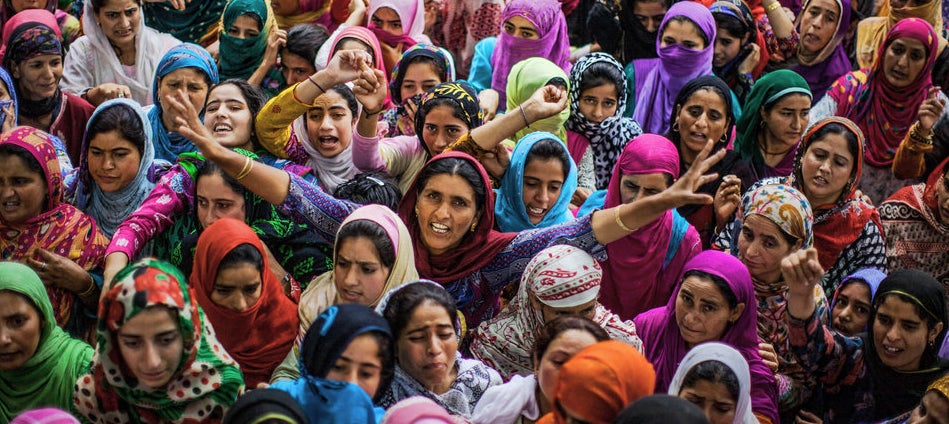 YAWAR NAZIR/ GETTY IMAGES
We live in a world where women are still underrepresented in electoral politics, which means we have to fight twice as hard for our voices to be heard.
According to U.N. Women, just 22 percent of parliamentarians around the world are women. As of this past August, 21 women served as the Head of State or Head of Government of their respective countries, and as of January 2015, just 17 percent of government ministers were women.
However, when it comes to grassroots political movements, women are there, making sure they are seen and heard. From American women gathering in Washington, DC to protest police brutality to Pakistani women flooding the streets to speak out against oppressive security crackdowns, these women are a force to be reckoned with.
In honor of International Women's Day on March 8th, we've rounded up gorgeous, emotional and powerful photos of women organizing and protesting all over the world from the last 25 years. Below are 60 images that show just how formidable a woman with convictions can be:
OZAN KOSE/AFP/Getty Images

PHILIPPE HUGUEN/AFP/Getty Images

ARMEND NIMANI/AFP/Getty Images

Rafiq Maqbool/AP

BRENDAN SMIALOWSKI/AFP/Getty Images

THOMAS SAMSON/AFP/Getty Images

Jose CABEZAS/AFP/Getty Images

Chung Sung-Jun/Getty Images

Ajay Aggarwal/Hindustan Times/Getty Images

10

United Kingdom, early 2000s

PYMCA/UIG/Getty Images

PETER PARKS/AFP/Getty Images

JUSTIN TALLIS/AFP/GettyImages

Marc Piscotty/Getty Images

ASIF HASSAN/AFP/Getty Images

Ricardo Moraes/AP

ANTONIO SCORZA/AFP/Getty Images

Yawar Nazir/ Getty Images

DOMINIQUE FAGET/AFP/Getty Images

19

Democratic Republic of Congo, 2006

LIONEL HEALING/AFP/Getty Images

WAKIL KOHSAR/AFP/Getty Images

21

Democratic Republic of Congo, 2012

ISSOUF SANOGO/AFP/GettyImages

Zacharie Scheurer/AP

Rebecca Blackwell/AP

Porter Gifford/Liaison/Getty Images

JUAN BARRETO/AFP/Getty Images

Miami Herald/Getty Images

Yawar Nazir/Getty Images

Nagesh Ohal/India Today Group/Getty Images

Yvan Cohen/LightRocket/Getty Images

Lisa Maree Williams/Getty Images

JORGE BERNAL/AFP/Getty Images

ISSOUF SANOGO/AFP/Getty Images

JUAN BARRETO/AFP/Getty Images

TAUSEEF MUSTAFA/AFP/Getty Images

FABIAN GREDILLAS/AFP/Getty Images

RAVEENDRAN/AFP/Getty Images

Steve Eason/Hulton Archive/Getty Images

SERGEI GAPON/AFP/Getty Images

PABLO COZZAGLIO/AFP/Getty Images

ROUF BHAT/AFP/Getty Images

PETER PARKS/AFP/Getty Images

MUSTAFA OZER/AFP/Getty Images

JANEK SKARZYNSKI/AFP/Getty Images

JAMAL ARURI/AFP/Getty Images

STRDEL/AFP/Getty Images

ADALBERTO ROQUE/AFP/Getty Images

ADEM ALTAN/AFP/Getty Images

SAJJAD HUSSAIN/AFP/GettyImages

ADEM ALTAN/AFP/GettyImages

DANI POZO/AFP/GettyImages

Marcos del Mazo/Pacific Press/LightRocket via Getty Images

Oli Scarff/Getty Images

AFP/Getty Image

Marko Drobnjakovic/AP

Bullit Marquez/AP

Mustafa Quraishi/AP

Virginia Mayo/AP

ADEM ALTAN/AFP/Getty Image

PIUS UTOMI EKPEI/AFP/Getty Images

Sebastian Casta/Anadolu Agency/Getty Images