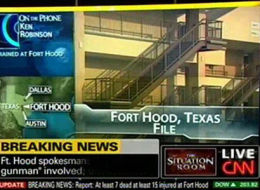 Pentagon: Fort Hood Shootings: 12 Dead, 31 Injured On Texas Military Base
One Gunman Dead, Two Other Suspects In Custody.
Gunman killed:
: Malik Nadal Hasan, Major, U.S. Army, age 39 or 40.
The U.S. Army says 12 people have been killed and 31 wounded in a shooting rampage on the Fort Hood Army base in Texas. Lt. Gen Bob Cone said at a news conference that one shooter has been killed and two suspects were apprehended on Thursday. He says they are all U.S. soldiers.
The suspected gunman was identified as Major Malik Nadal Hasan. He was killed and two other suspects have been apprehended, Lt. Robert W. Cone said.
The gunman used two handguns, Cone said. He wasn't sure if the shooter reloaded the weapons during the attack.
The general called the attack "a terrible tragedy, stunning." He said the community was "absolutely devastated."
The extent of the injuries of victims "varies significantly," according to Cone.
The first shooting began at about 1:30 p.m. at a personnel and medical processing office, Army spokesman Lt. Col. Nathan Banks said. The facility, called a Soldier Rating and Processing center, handles administrative details for soldiers.
Banks says the second shooting took place at a theater on the sprawling base.
Sgt. Rebekah Lampam, a spokeswoman at Fort Hood, said it was not known whether the shooters were soldiers or civilians.
An Army spokesman said the base was locked down after the shootings.
Covering 339 square miles, Fort Hood is the largest active duty armored post in the United States. Home to about 52,000 troops as of earlier this year, the sprawling base is located halfway between Austin and Waco.
At the Soldier Readiness Center, soldiers who are about to be deployed or who are returning undergo medical screening - on average about 300-400 screened a day, Lampam said.
Story continues below
Lampam said a graduation ceremony for soldiers who finished college courses while deployed was going on in the auditorium at the time of the shooting.
The White House said President Barack Obama was notified of the shootings.
The base is home to nine schools - seven elementary schools and two middle schools - and all were on lockdown, said Killeen school spokesman Todd Martin.
Texas Department of Public Safety spokeswoman Tela Mange said Texas Rangers and state troopers were en route to Fort Hood to help seal the perimeter of the 108,000 acre base.
Fort Hood officially opened on Sept. 18, 1942, and was named in honor of Gen. John Bell Hood. It has been continuously used for armored training and is charged with maintaining readiness for combat missions.
Local TV station KXXV reports:
We've learned an incident has taken place at the sports dome, now known as the soldier readiness area.... Temple ISD Schools Have Been locked down as part of this incident. The district's spokeswoman tells News Channel 25 the district is on soft lockdown.
MSNBC is reporting that one suspect is in custody, and one is still on the loose. Additional reports have come in that a second suspect is on the loose on the military base, but that has not been confirmed at this time. According to reports, the suspects were in military uniform. More details from MSNBC:
The official would not give [the suspect's] name nor additional details. It was unknown whether victims are soldiers or civilians. One gunman was reportedly in custody and another was on the loose, NBC News said. A third shooter may be involved, according to NBC News affiliate KCEN, which said the person had opened fire on the SWAT team at the base.
The Fort Hood military base is huge -- home to 4,929 active duty officers, 45,414 enlisted and nearly 9,000 civilian employees. The early word from MSNBC is that this is all military, and no civilians were involved. But that has not been confirmed.
The shootings began minutes before a graduation ceremony was to begin, honoring soldiers who had obtained degrees from extension schools. President Obama has been informed of the shootings.
http://www.huffingtonpost.com/...-7-dea_n_347366.html