Prom Queen! Wisconsin Teen with Painful Disease Gets Her Last Dance Before She Decides to End Her Life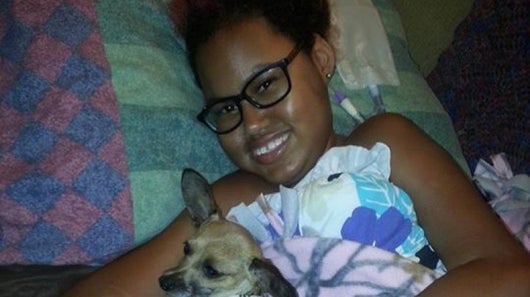 SHARESSharing Options 9 CommentsSUBSCRIBE NOW
BY BLAKE BAKKILA @bcbakkila 07/24/2016 AT 11:55 AM EDT
A Wisconsin teen has decided to end her life after battling a crippling disease – but first, she wanted to go to prom.
Jerika Bolen, 14, has spinal muscular atrophy type 2, a disease that "destroys nerve cells in the brain stem and spinal cord that control voluntary muscle activity," according to Post-Crescent. She has been bound to a wheelchair her entire life, and told the newspaper that her pain varies, but is "a seven on a scale of one to 10" on an above average day.
This deteriorating disease and extreme pain has led her to decide to move to hospice, where she will be unhooked from her ventilator and eventually die, according to the Post-Crescent.

However, before her final days, Jerika wanted to complete a right of passage for many teens – prom. Called "J's Last Dance," the five-hour dance party on Friday night drew hundreds of people from all over the country, all sending their well-wishes to the teen.

The Grand Meridian ballroom in Appleton, Wisconsin, was decorated in lime green and black, Jerika's favorite colors. The scene complemented her green gown, blue-dyed hair tucked in two buns and shiny blue lipstick. She wore a sparkling crown and sash that said, "Prom Queen." At one point, all of Jerika's guests chanted "Prom Queen" in support of the teen.
"It's awesome," Jerika told the Post-Crescent of the prom. "It's fun. It's a lot of people, and they look up to me. It's kind of scary because I don't know what they're looking up to me for."
Those who looked up to her included police officers and firefighters, who applauded her as she got into a limo and escorted her with a motorcade of 17 squad cars and a firetruck, according to the report. She also got a special video surprise from California boy band New District. And perhaps her favorite part of the night was when her self-proclaimed "idol," YouTube star Richie Giese greeted her in full-costume.
"I thought, 'Let's just go all the way. I might as well make her day,'" Giese, better known on YouTube as Social Repose, told the Post-Crescent. "Let's just push this over the edge."
As Bolen's story was spread online, the GoFundMe page established to pay for her prom and other expenses has raised over $34,000 – $8,000 more than their goal of $25,000.
Toward the end of the night, Bolen's mother Jen got emotional, telling the newspaper, "I'm really trying hard not to fall apart right now ... I have to be strong for her."
And as her final days approach, Bolen told the newspaper that she is ready, but concerned about her mother.
"She says I am what she, like, lives for sometimes," she told the Post-Crescent in a video earlier this week. "And if I'm gone, I don't want her to just not be taken care of."
But she said she wants to make this decision while she still has the power to voice her needs and desires.
"I do have a voice and it's going to hurt my family," she said in the video. "But they will – they eventually will be OK ... my memory will carry on, I hope."