Plate readers pinpoint delinquent car owners
By MATTHEW ROY, The Virginian-Pilot
© June 20, 2007
Last updated: 8:12 PM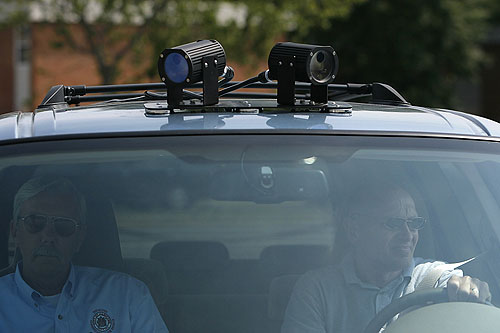 Barry Betts, above left, and Karl Gunther use an electronic license-plate reader to help them find vehicles whose owners haven't paid their personal property taxes.
HYUNSOO LEO KIM | THE VIRGINIAN-PILOT
HAMPTON
An electronic alarm chirped inside the blue Ford van.
The men in the van, employees of the city treasurer's office, motioned to a young woman backing out of a parking space to stop. A moment later she climbed out of her Pontiac Sunfire.
City officials have been prowling neighborhoods for several months with an electronic license-plate reader that helps them find vehicles owned by people who haven't paid their personal property taxes. This type of reader, also used by some police departments to find stolen cars, checks the plates of cars on city streets and in parking lots against a list of residents who owe car taxes.
Dave Ellis, deputy to the city treasurer, reviewed the young woman's account from the screen of a laptop computer. She hadn't paid taxes due in December. She'd been at school, she told him.
It was a fairly new delinquency, so she was let off with a warning.
"It's up to her now," Ellis said, climbing back into the van. They'd check back on her again in seven to 10 days to see if she ha d paid.
Not everyone is so lucky. A bit later, the reader passed a white Ford Escort on a residential street. Chirp! Its owner owed a few hundred dollars, including taxes due on another car; some of the debt dated to 2005.
Barry Betts and Karl Gunther hopped out of the van. They quickly took the plates from the vehicle and attached a notice labeled "distress warrant" to it. It warned the owner not to try to sell the car. Now it was up to the owner to pay the taxes to get his plates back.
Most of the people who get such a notice have owed taxes for more than a year, said R.S. Williams, chief deputy treasurer.
In the most egregious cases, when debts span several years and more than $1,000, wheel locks can be placed on a vehicle, Ellis said.
Once, a man in a Hummer passed the blue van and the alarm chirped. He owed $4,542, Ellis said. They followed him for a few minutes, and he parked at a shopping center.
The men took his plates and slapped a warrant on his windshield.
They also spoke to the man at the scene and explained the situation. The driver immediately headed to the treasurer's office to pay his taxes.
The American Civil Liberties Union does not have a fundamental objection to such uses of plate readers, provided authorities are focused on "wrongdoers," said Jay Stanley of the ACLU's Technology & Liberty Project. The group would not want to see any such programs compile data on the comings and goings of ordinary citizens, he said.
Ellis said the reader provides him no information about a vehicle or its owner unless it hits on a tax-delinquent account. It doesn't even record the location of the license plates it reads, he said.
Hampton's program will be expanded to get the reader on the road more frequently, Williams said. Since it began in October, it has run a couple of days a week and netted nearly $137,000 in unpaid taxes, Williams said.
No other Hampton Roads cities reported using the plate readers in such a way; Chesapeake Treasurer Barbara Carraway said her office is contemplating using the devices.
Williams said similar programs are under way in Arlington and Chesterfield County.
SPENDING MONTHS...prowling for MONTHS...Another case of TECHNOLOGY and SPECIFICALLY the USER making sure we ENJOY our DOSE of BONDAGE anyway you CUT IT. Anything DEALING with DEBT is certainly a matter of them WHITE GODS and their MINIONS. Thanks them for having your local OFFICIALS work as REPO-MAN. These WHITE GODS got everything UNDER CONTROL.
Oh well, I guess that is what we all get for
FOLLOWING
those
WHITE GODS
and their
MINIONS
.