To be filed under the heading .... "Don't Let This Happen To You" ...
Software executive admits affair after mistress' billboard campaign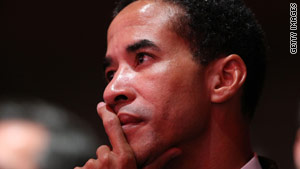 New York (CNN) -- The former mistress of a married man has taken their relationship public in a big way -- a series of giant billboards of the happy couple erected in New York, San Francisco and Atlanta.
New Yorkers passing through midtown Manhattan this week saw the smiling faces of "Charles and YaVaughnie" beaming down upon them from one of two billboards in the city with the caption reading, "You are my soulmate forever! - cep."
A URL on the billboards led curious visitors to a Web site containing personal photo albums featuring the couple at public and private events with friends and family. It also contained love notes from Charles E. Phillips to YaVaughnie Wilkins.
Phillips, 50, the co-president of Oracle Corp., admitted the affair with Wilkins, 42, in a statement released by his spokeswoman Friday.
""I had an 8½-year serious relationship with YaVaughnie Wilkins," the statement said. "My divorce proceedings began in 2008. The relationship with Ms. Wilkins has since ended and we both wish each other well."
Phillips is reportedly still married to his wife, Karen, and the two have a son together.
Wilkins declined to speak directly to the media, instead fielding requests through her cousin Misha Davila, who told CNN the Web site was created as a gift from Wilkins for Phillips' 50th birthday.
The billboards were an attempt by Wilkins to reclaim her version of her relationship with Phillips among friends and family -- not an act of revenge, Davila said.
By Friday, at least one New York billboard had been removed and the Web site was no longer active. The status of similar billboards in San Francisco was unclear. Two ads in Atlanta have also been removed, The Atlanta Journal-Constitution reported Friday.
Davila said Wilkins refuses to be cast as the "other woman."
According to Davila, Wilkins had been under the impression that Phillips' divorce was finalized in 2003.
"Their relationship was always very public and open. He went to family events, she has traveled with him," Davila said.
But late last summer, Davila said, Wilkins received an anonymous e-mail tip about Phillips' marital status. Hiring a private investigator, she learned that Phillips was still married. She ended her relationship with him in October 2009.
Bela Kovacs, the designer of the Web site, told CNN he was commissioned to create it by Wilkins last summer. It "launched sometime in October," Kovacs said in an e-mail.
Phillips, who has served on President Obama's economic recovery advisory board since February, joined Oracle in 2003. Prior to that, he worked as a tech industry analyst at Morgan Stanley and served as a captain in the U.S. Marine Corps.
Often talked of as a potential successor to Oracle founder and CEO Larry Ellison, Phillips is one of the software company's most senior and highly paid excecutives. On top of an $800,000 salary for 2009, he took home stock options and other compensation valued by Oracle at more than $18 million.
CNN's Aspen Steib and Hibah Yousuf contributed to this report.