Leslie Freeman Shot: Chicago Mom, Baby Son Shot Over Weekend That Left 2 Dead, At Least 24 Injured
A peaceful Sunday evening at a Chicago park turned into mayhem when a pair of gunmen fired at least a dozen shots on a van packed with women and children, striking one woman and her 22-month-old son.
Leslie Freeman, 27, and her son Demonte were shot around 6 p.m. in the 1700 block of West 73rd Street, adjacent to Murray Park, according to DNAinfo Chicago.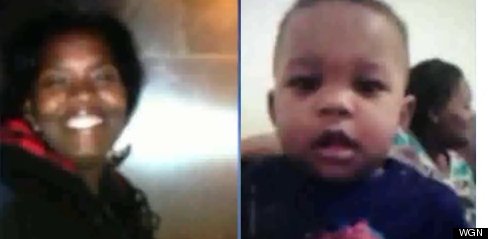 Leslie Freeman, left, and her son Demonte.
Two men reportedly fired from a red minivan before driving off, the Tribune reports. Demonte was sitting on his mother's lap during the incident and the two were the only ones hit in the van filled with four women and five children. Both mother and child were rushed to area hospitals by friends and remain hospitalized.
Just last year, Freeman lost her son Deon after he was shot outside a convenience store by a known gang member.
During an interview with WGN (embedded above), witness Pamela Burrell said of the shooters, "I think they should take them to Afghanistan somewhere and let them shoot at anybody they want to shoot at because they're just a bunch of cowards."
John Edwards, Freeman's uncle, wondered whether the shooting may have part of a gang initiation.
"Who else would shoot at a bunch of women and children?"
A $1,000 reward is being offered by the community for information related to the shooting. Anyone with information is being urged to call 1-800-883-5587.
Earlier Sunday, a 24-year-old man was found dead from "multiple gunshot wounds" in the South Shore neighborhood. The Sun-Times reports the man was shot about 3:20 p.m. in the 2400 block of East 75th Street.
Early morning Saturday, 27-year-old Shannon Ware was shot in the head and chest around 7:40 a.m. outside his home on 116th Street near State Street. A light-colored sedan fired from across the street striking Ware, who died at the scene.
Despite the two homicides and at least 24 injuries over the weekend citywide, Chicago police say homicides this year through the end of June have dropped 29 percentcompared to the same period last year. ABC Chicago reports Chicago finished the first half of the year with 274 fewer shootings than the first six months of 2012 — a 25 percent decrease — and 76 fewer murders.