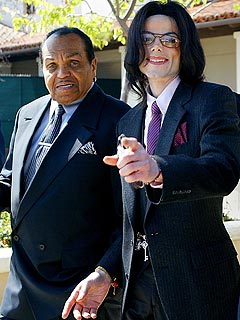 A day after Michael Jackson's death, a cloud of deep sadness - mixed with growing anger - has descended on the Jackson family home in Encino, where Joe and Katherine Jackson and their children have gathered to mourn.
"We're holding a family meeting now," Joe told PEOPLE in a brief interview midday. "We don't like what's going on."
A source close to the family tell PEOPLE that, while the adults of the family put up a brave front on Friday for Michael's three children - Prince, 12, Paris, 11, and Blanket, 7 - the emotions on Saturday are raw and bitter.
"The Sadness is Unreal."
"The kids have fallen apart today," says the source. "They have taken it so, so hard. Yesterday everybody was being really strong for the kids, but today it just hit everybody. There are so many tears."
A sharp division has opened between Michael Jackson's lawyers and personal staff and his parents and eight siblings.
"There is so much sadness in the house today, it's unreal. They are so confused. They are so in the dark," says the source.
"The family has no access to the will. [Michael's lawyers] won't let the family see the will ... The family has no idea what to do. They don't even know when to bury him. They don't know what to do about anything. They aren't getting any answers from Michael's lawyers."
Mrs. Jackson Rebuffed.
Even Katherine Jackson, the singer's mother, has been rebuffed by Michael's camp, according to the source. "Michael's people won't give Mrs. Jackson anything."
Another source of deep concern for the family: The intentions of Debbie Rowe, Jackson's former wife and the mother of his two older children, whose lawyer yesterday confirmed that Rowe retains parental rights. The Jacksons apparently fear that Rowe, who has not lived with the children in years, may now want to raise them.
"They haven't heard from Debbie Rowe and don't know what's going on in that respect, either. Joe and Katherine really want the children," says the source. "They for sure want the children."
Independent Autopsy.
Another source close to the family tells PEOPLE that the family is so concerned about the reliability of Jackson's handlers that there is a possibility that patriarch Joe Jackson, now acting once again as the family chief, will request an independent autopsy.
"They're in shock and they want answers," the source says. "The issue is the people around him: vampires and blood suckers."
About the only positive development, says this source, is the rare sense of unity that now unites the large and fractious family. "They are coming together and Joe is running the show. It was tough for them all growing up, but the parents never stole from Michael and they had his best interests at heart."
http://www.people.com/people/p...xid=rss-topheadlines
SECOND STORY:
Debbie Rowe prefers her animals to her own children with Michael Jackson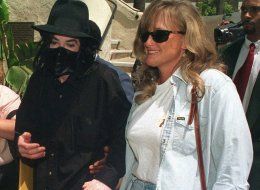 Previously Debbie had signed a confidentiality agreement in exchange for a pay off by the Jackson camp, but now she is apparently ready to share the details of their odd union
Not wasting any time, Debbie Rowe, the self-described "vessel" who claims that she incubated donated sperm to deliver Michael Jackson his first two children, is flapping her gums to the media over their unusual arrangement that gave Jackson "a family."
Michael Jackson is not even in the ground, and already his former "wife" and "mother" of his first two children, Debbie Rowe, started giving interviews to the News of the World revealing the intricacies over the arrangement she had with Jackson post his Lisa Marie Presley divorce.
Previously Debbie had signed a confidentiality agreement in exchange for a pay off by the Jackson camp, but now she is apparently ready to share the details of their odd union.
Debbie gave birth to Prince, 12, and Paris, 11 and now tells NOTW she was artificially inseminated by an anonymous donor.
She also does not want custody, according the NOTW interview.
It was at her employer, Dr. Arnie Klein's dermatology office, where the two "lonely" souls bonded according to Rowe. Jackson was sad that Lisa Marie denied him children, and she and Jackson bonded over their alleged love of animals. Before long, she claims to have offered him her uterus in exchange for an undisclosed financial arrangement.
Debbie told NOTW: "Michael was divorced, lonely and wanted children. I was the one who said to him, 'I will have your babies'.
"I offered him my womb - it was a gift. It was something I did to keep him happy."
Debbie compared her pregnancies to that of livestock: She tells NOTW she was "impregnated" like one of the thoroughbred mares she now keeps on her property, adding: "I was just the vessel. It wasn't Michael's sperm.
"I got paid for it, and I've moved on. I know I will never see my children again."
NOTW bulleted the highlights from Rowe's interview:
They never had sex.
Lisa Marie denied him kids and that broke the marriage between them.
The marriage was a total sham.
Jackson ditched Rowe after her second pregnancy left her barren.
"I was comfortable with him. I offered him my womb. We were close enough that I knew I could offer him that, so I did. It was a gift.
"But after the second birth had so many problems, he knew I couldn't have kids any more. He didn't want anything to do with me. He took the kids. The settlement was written up, and he just wanted me to be quiet." Rowe shared with NOTW.
It was while she was pregnant the first time that Jackson arranged for the couple to marry, in a rushed ceremony at the Sheraton Hotel in Sydney in November 1996.
Debbie has no interest in the Jackson children, per NOTW: "I was never a good mother, I never felt any attachment to them. It was a better feeling giving them to him than it was keeping them as my own.
"I know I will never see them again. I was never cut out to be a mother - I was no good. I don't want these children in my life. My children are my animals now."
http://www.monstersandcritics....with_Michael_Jackson