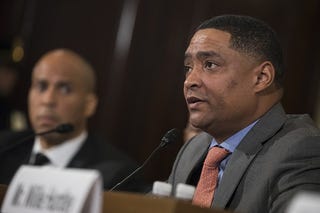 The Congressional Black Caucus recently reached out to the Justice Department and FBI, asking the federal agencies to help local police investigate a rash of black and Hispanic missing teens in the nation's capitol.
They called on Attorney General Jeff Sessions and FBI Director James Comey to "devote the resources necessary to determine whether these developments are an anomaly or whether they are indicative of an underlying trend that must be addressed."
D.C. police officials maintain there has been no increase in the numbers of missing persons in their jurisdiction. According to local police data, the number of missing child cases in the District dropped from 2,433 in 2015 to 2,242 in 2016.
However, D.C. residents feel like one child missing is too many. Hundreds of people packed a town-hall style meeting at a neighborhood school on Wednesday to express concern about the missing children cases and ask about why these children were not receiving Amber Alerts—to which a police representative reportedly responded are only issued when a child is abducted.
Many black children are labeled runaways, says Natalie Wilson, co-founder of the Black and Missing Foundation, to USA Today. "They do not get an Amber Alert or media coverage."
According to the Black and Missing foundation, nearly 37 percent of missing children nationwide are black. The National Crime Information Center showed there were 170,899 missing black children under 18 in the United States, significantly disproportionate to their population numbers.
Derrica Wilson, co-founder of the Black and Missing Foundation, said she is concerned about whether human trafficking is a factor.
"They prey on the homeless, they prey on low income children, they prey on the runaways, they prey online," Wilson said.
"Whether these recent disappearances are an anomaly or signals of underlying trends, it is essential that the Department of Justice and the FBI use all of the tools at their disposal to help local officials investigate these events, and return these children to their parents as soon as possible," Rep. Richmond said.
Rep. Richmond said he hopes to meet with Sessions and bring up the issue but no meeting is currently scheduled.
Read more at the AP and USA Today.
*Shoutout to The Root's Yesha Callahan for breaking this story wide open.
On March 12, 2017, I wrote about the number of black and Latino teens who have gone missing in the…Read more