I watched the Fab Five documentary and it's was one of the best that I have even seen in regards to the real story behind those five Michigan freshmen who changed the way basketball looked and their pure honesty that was revealed in how their handeled their young lives constantly as stars in the spotlight and all the negative issues that they had to deal with.


The real issue here regarding Jalen Rose and Grant Hill and the "Uncle Tom" comment both who both have successful and lucrative careers playing NBA basketball (Rose played 13 years and is now an ESPN analyst and Grant ill is still playing in his 15th year) has more to do with their genetic pedigree; their fathers who were both successful professional athletes and the family decisions that they made which resulted in poverty and resentment for Jalen Rose and love, devotion and prosperity for Grant Hill before each one became accomplished and famous multi-million dollar NBA stars.

-----------------------------------------------------------------------------------------------------
Grant Hill's father, retired NFL played Calvin Hill, who played 12 years in the league, graduated from Yale University in 1969 with a degree in history. At Yale, Hill was a member of Delta Kappa Epsilon fraternity (Phi chapter), where one of his fraternity brothers was President George W. Bush. He also was a member of the secret society, St. Elmo, which Bush's Attorney General, John Ashcroft, had joined five years earlier.


Prior to attending Yale, he was awarded a scholarship by his family doctor, Dr. William C. Wade, to attend the Riverdale Country School in the Bronx, New York. At Riverdale he was an accomplished athlete in football, basketball, baseball, and track and field, often leading teams that defeated athletic arch-rival Horace Mann School.


His wife Janet Hill, Grant Hill's mom, is a graduate of Wellesley College, where she shared a suite with Hillary Rodham Clinton.


She currently sits on the boards of several organizations, works as a corporate motivational speaker, and works for the Dallas Cowboys organization as a consultant who specializes in working with troubled players. Additionally, Mr. Hill is a consultant to the Cleveland Browns Football Club and Alexander & Associates, Inc., a Washington, D.C. corporate consulting firm.


As a consultant with the Cleveland Browns, he helped form a group of Cleveland Browns' players to control and eliminate drug and alcohol related problems. Mr. Hill has written several articles on sports and academia for national publications, makes appearances at university campuses and business firms, throughout the United States. He addresses several topics including the problem of drugs and alcohol and the work needed in this area, and the important relationship of sports and academia.
Calvin Hill Day Care Center in New Haven is named after him, in honor of Hill's work for children.






Calvin Hill & Grant Hill



http://en.wikipedia.org/wiki/Calvin_Hill
-----------------------------------------------------------------------------------------------------

Jalen Rose' father Jimmy Walker, is a retired NBA player who played 9 years in the NBA. Walker was a two-time All-Star who scored 11,655 points in his career. Walker played basketball on the streets of Bostons Roxbury neighborhood. He starred at Boston Trade High School, and was noticed in the schoolyards by Celtics' star Sam Jones. Jones took an interest in the 6'3" teenager, and steered the average student to his own alma mater, Laurinburg Institute, a Black preparatory school in North Carolina once attended by Dizzy Gillespie. At Laurinburg, Walker improved his grades.


At Providence, Walker's game (much as that of Michigan star Cazzie Russell) was compared to that of the premier player of the era, Cincinnati Royals superstar Oscar Robertson. Walker averaged 23 points as a junior, and led the nation with 30 points a game as a senior. His high point total of 50 points came vs. Coach Bob Cousy's Boston College team, and he was named MVP of the prestigious Holiday Festival Tournament in Madison Square Garden. He was also one of the first college players to use the between-the-legs dribble.


Walker led the nation in scoring in his senior year, averaging 30 points a game, without the benefit of a three-point line. Walker's 2,000-plus points led Providence for four decades, until his all-time scoring record was broken in 2005 by Ryan Gomes. However Walker was able to accomplish this in only three seasons, since the freshman rule had not been in effect.


Walker was drfated and selected number one overall in the 1967 NBA Draft by the Detroit Pistons.
Despite playing in two NBA All-Star games, Walker never reached his full potential as a pro, partly due to his weight gain. His game had been predicated on quickness. Nonetheless, he averaged 20.8 ppg. in 1969-70, 21.3 in 1971-72, 19.8 in 1973-74, and averaged almost 17 per game over a nine-year career. The numbers are all the more impressive when one considers that Walker teamed with star guards such as Dave Bing in Detroit (now it's mayor), and Nate Archibald in Kansas City-Omaha.


Jimmy Walker left Jalen Rose's mother prior to his birth and took no part in the child's upbringing. Jimmy Walker passed away at the age of 63 in July of 2007 due to lung cancer and Jalen Rose never knew his father Jimmy Walker. Never even met him.



Jalen Rose also coaches summer-league youth, After a team loss, Rose led the squad downstairs for a postgame pep talk. As the team disbands, Rose opens a side door, which opens to a darkened, cluttered office. "This is the place where I really learned who I was," he says.
He learned this particular lesson 22 years ago from the late Sam Washington, who was the director of St. Cecilia. Tired of Rose's constant goofing off in a sixth-grade class, Washington led him to the basement office. Clicking off the lights, he fed a reel into a projector and played highlights of Walker -- a solidly built shooting guard who reminded many of Oscar Robertson -- on the wall.
"That's your father," he told Rose, who sat mesmerized by the footage. "You have the same potential to be very special."
Rose had long heard whispers about his biological father being a ballplayer, but was clueless until that moment about the extent of Walker's success. That's because his mother, Jeanne, rarely spoke about the man who abandoned her after she became pregnant in 1972.
"What was there to say?" says Jeanne, who met Walker at a popular West Detroit nightspot and didn't realize he was married at the time. "A year after Jalen was born, I told Jimmy, 'If you don't give me a dime, at least be a father to your son.' He couldn't even do that."
And that caught most who knew Walker by surprise.
In Detroit, kids were drawn to Walker's magnetic personality, and the All-Star guard welcomed them. He was in that first wave of NBA players who became a fixture at St. Cecilia and the nearby YMCA, offering fatherly advice and even tickets to Cobo Hall to many of the kids who played at the gym.
"Jimmy was the one guy who stayed in the community," Bing says. "He had a great connection with the local kids."
A great connection with all except for Rose, who was born in January 1973, months after Walker's trade to Houston. While Walker enjoyed healthy earnings befitting a top-round pick and an All-Star, Jeanne struggled raising four kids as a single mom on a Chrysler keypunch clerk's salary.
"No electricity, no hot water, no heat -- at times we struggled," Rose, the youngest of Jeanne's kids, says. "We'd wake up in the morning and wash with water we heated on a hot plate. And we'd go to bed at night wearing skull caps, sweat shirts and gloves."
Rose's life, in Motown, was a ball of confusion. Some days, his mother's struggles made him bitter. Other days, Rose was determined the man he would never see was the man he'd try not to be.
A few weeks after watching the film, Rose tore open a pack of basketball cards, and guess whose image looked up at him? Walker. He slipped the card into his pocket and carried it everywhere he went. In those back-and-forth trash-talking sessions in the schoolyard, Rose's trump card was his Walker card. "That got me a lot of respect," Rose says.
Rose began to create an alter ego to his famous father. Hearing that Walker put on shows with his basketball skills at St. Cecilia, Rose did the same. Knowing that Walker had worn No. 24, Rose flipped the script and selected No. 42.
Looking back, Rose calls those actions "little spiteful things." But the reasons he did them, the drive that carried him to become one of the top high school prospects in the country by his senior season at Southwestern High School, were clear:
"I made a vow that one of the main things I wanted to accomplish in my life is that one day he'd know my name."
As Michigan and his Fab Five team mates prepares for its first NCAA tournament game, Rose says, Detroit Free Press columnist Mitch Albom -- who interviewed Walker for a book on the Fab Five -- hands him an envelope with an Atlanta return address.


The name on the envelope: Jimmy Walker."
Easy decision, opening the letter, right?
"Not easy at all," Rose says. "It's the middle of the NCAA Tournament and I'm extremely focused. With a game coming up, I wasn't ready to deal with it. So I decided to wait a day."
A day became two days. Two days turned into two months. Two months turned into years.
It's not that Rose forgot about the letter: It was with him during his remaining years at Michigan, accompanied him in his rookie season in Denver, and sat in clear view in his desk drawer, right next to his wallet and car keys, when he was traded to Indiana.
Why the wait?
"I wanted to be mature enough when I read it," Rose says. "Whether that letter represented an overhand right by Mike Tyson, or the love of my life, I just wanted to be ready."
In 1997, Rose's second year in Indiana, the Pacers drafted Austin Croshere out of Providence. Croshere had won the school's most valuable player trophy (the Jimmy Walker MVP Award), and his presence became a steady dose of Jimmy Walker tidbits:
"You look just like your father. ... You should come visit Providence, everything at the school is named after your father. ... I've got a couple of trophies with your father's name."
In 1999, Croshere handed Rose a piece of paper. On it was Walker's phone number.
And, still, Rose waited.
But a year later, while packing for a road trip, Rose grabbed the envelope. And in Miami, on a bus ride to the team hotel, Rose slipped the letter out of a book and -- after eight years -- read it.
"It was his introduction to me, letting me know how proud he was of my accomplishments," Rose says. "He wanted me to know that it was [Albom] tracking him down that made him public. He said in the letter he was proud of the man that I had become."
Rose called Walker, but got Walker's friend instead. The friend linked Rose with Walker's sister. The sister passed Rose's information to Walker and the two exchanged messages until Rose picked up the phone and, after 27 years, nervously uttered the first words he had ever spoken to his father:
"Can I speak to Jimmy?"
Rose told his father that he had no hard feelings, that he was happy with his life, that he knew exactly where the athleticism he was blessed with came from. Walker told his son that he had followed his career, and that he was proud of how he had developed as a player.
"He was super-shocked," Rose says of the call. "But he handled it with poise. And he made a point of telling me he wanted nothing from me."
The two would speak several more times, and ended each conversation promising a face-to-face. But the e-mails became a bit more infrequent. The phone calls, too.
It took 27 years for Jalen and Jimmy to connect. It took less than a year for the two to drift apart.
Throughout Rose's NBA career, he could never escape being Jimmy Walker's son. He'd see Bob Lanier and hear stories about Walker's incredible scoring ability. He'd talk with Jerry West and the conversation invariably turned to the time the two paired in the backcourt during the 1972 All-Star Game.
A couple of years ago while Rose was playing against the Suns, Phoenix coach Mike D'Antoni stood behind him and mumbled under his breath: "Yeah, you remind me of Jimmy when I was his practice dummy." D'Antoni was Walker's teammate in Kansas City.
His career over, Walker settled in Kansas City, and later spent several years in his hometown of Amherst, Va., and in Atlanta. He moved back to Kansas City in 1994 after his daughter, Jamesa Walker-Thompson, was diagnosed with cancer.
"He always told me to be a fighter," says Jamesa, a cancer survivor. "When he got cancer, he used me as an example. He would look at me and say you didn't go anywhere, so I'm not going anywhere."
In Kansas City, much of Walker's time was devoted to programs that aided youth in that city. His passion outside of work was tennis, and Walker spent much of his free time at the 47th Street courts near his home. "Had he chosen tennis over basketball," says longtime friend Sam Dowdy, "he would have been a star there as well."
Then Walker seemingly vanished. Bing lost contact with him. The retired players' association couldn't locate him. "We had guys from the Kings," says Lacey, who last saw Walker in 1989, "who had no idea he stayed in Kansas City."
At Providence, it took 34 years for the school's biggest star to return to campus, when the Friars honored him as a legend in 2001. After a weekend of reliving memories from a great career, he was gone again.
In 2005, as Ryan Gomes was on the verge of breaking Walker's school scoring record, Providence tried to contact Walker with no success. "It was like this mystery," says Providence assistant athletic director Arthur Parks. "Where is Jimmy Walker?"
Knowing that Rose was Walker's son was widely known. But Dowdy says Walker never discussed Rose until a ride to the tennis courts in early June. "We were in the car, he mentioned that he had spoken to Jalen several times over the years, and then he started crying," Dowdy says. "From there, he spoke about him every other day. There was a real desire to see him."
And everything was in motion for that to happen. Rose, aware of Walker's deteriorating condition, was making plans to visit.
That Friday night, June 29, shortly after Lacey's conversation about Rose, Walker's condition worsened and he was rushed to Truman Medical Center. On the morning of July 2, with his daughter, Naja Walker-Thompson, and her mother, Sandra Thompson, by his side, Jimmy Walker died.
At Jimmy Walker's funeral, it represents the first time Rose and Walker have shared the same room. Yet even now in Walker's death, Rose is unable to set eyes on the man who gave him life. Walker, his body ravaged by lung cancer, has been cremated. Rose is able to look only at a photograph of Walker perched next to an urn.


According to a writer who knew Jalen Rose, he had always tried to arrange a meeting between the two of them and was unsuccessful in doing that which always bothered him because he knew Jalen. It would have been great for the two of them to get to know each other, but it didn't happen.


Later, at a gathering of Walker's family and friends, Rose is asked about his earlier moment of silent reflection.
"I was hurt, saddened, and selfishly disappointed that we never got a chance to meet," says Rose, who then lowers his head and closes his eyes. "You want to know something? We were supposed to meet this month, we were supposed to meet this month."
"Some wanted to be doctors, some wanted to be lawyers," Rose says. "I wanted to be a basketball player, and because of Jimmy, I always knew that I had it in me. He wasn't there, but he inspired me.
"And for that, I'll always be thankful."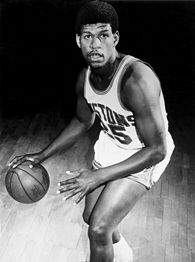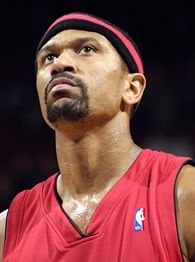 http://www.nba.com/features/walker_070703.html

http://en.wikipedia.org/wiki/Jimmy_Walker_(basketball)



****The tale of two fathers and the life decisions that they made in regards to their maturity, their family, their children, being fathers and how it affected each child mentally (abandonment and resentment vs love and affection) who were both born with the athletic genes and pedigree of their fathers and ended up in the exact same place: Successful college careers at top universities and in the NBA with successful careers, fame, millions of dollars and post careers: Rose, an ESPN sports analysts with huge upsides and his new "Jalen Rose Leadership Academy in Detroit" which will eventually enroll 480 students in grades 9-throuth-12.
The school will be operated in partnership with University of Detroit-Mercy to offer students a pre-college experience.

Tuition is free. The academy has received a Michigan Future Schools initiative grant which carries with it the expectation of an 85% graduation, college enrollment and college graduation rate.
Rose says his involvement in the school will be hands-on. He's not just lending his name to the academy.
Retirement will probably also adorn Grant Hill when he retires and due to their father's decisions as parents, the mental and psychological seeds that were planted in each son, especially Jalen Rose, offered a much different prespective on life as young men growing up and now approaching middle age for both of them.*****



Abandonment and resentment vs love and affection......The fuel used on opposite ends of the social & economic spectrum in order to achieve athletic & NBA success.


IMO, In Jalen Rose' mind, If he only had his father who was an exception to the rule from the ghetto and an NBA all-star, a solid upstart and beginning, a family base and foundation similiar but maybe not exactly the same as Grant Hill had, he could have equalled Grant Hill in collegiate/professional athletic legacy and respectibility because all the pieces were certainly there for that to happen.



And the term "Uncle Tom" regarding the Duke basketball program, its selection of certain African American players and Grant Hill probably would not have even entered Jalen Roses' mind or uttered as an 18 year old.