Originally Posted by RadioRaheem:
Chicago officials release video showing police killing of Laquan McDonald
Dashcam footage of 2014 killing released on judge's order
City prepared for backlash to video showing teenager being shot 16 times
<button class="vjs-big-play-button" tabindex="0" type="button">
Play Video
</button>
<button class="vjs-play-control vjs-control vjs-button" tabindex="0" type="button">
Play
</button>
<button class="vjs-fullscreen-control vjs-control vjs-button" tabindex="0" type="button">
Fullscreen
</button>
Chicago police dashcam video shows the fatal shooting of Laquan McDonald
.
WARNING: This video contains graphic images
Anger spilled on to the streets of Chicago late on Tuesday after video footage showing the shooting of a black teenager by a police officer was publicly released, on the same day that a white Chicago officer was charged with murder in connection with the death.
Protesters gather in Chicago after officials release dashcam video of Laquan McDonald shooting, and Minneapolis sees another night of demonstrations over killing of Jamar Clark
Crowds stopped traffic in downtown Chicago in the hours after the video – capturing the final moments of 17-year-old Laquan McDonald – was released on judge's orders.
The video, which lasts six minutes and 54 seconds, shows the confrontation on 20 October 2014 between the teenager and two armed police officers. Laquan is seen striding down the center of a two-way street and appears to be carrying a knife when the dashboard camera of a police patrol vehicle records the moment that two officers point handguns at him.
He turns briefly toward one of the officers and is then shot, the impact of the first bullet apparently spinning him around before he collapses on the street. A puff of smoke or dust can be seen rising near his body as a bullet hits the ground. The camera continues to focus on his prone body as the officers, now out of frame, shoot him multiple times. An autopsy report from the Cook county medical examiner's office showed McDonald was shot 16 times.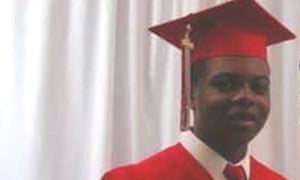 Laquan McDonald. Photograph: Courtesy of the family
On Tuesday night activists took up the chant "16 shots" as they formed a human circle at a busy intersection in Chicago. "Right now black people are angry! Right now what is important is young black people," activist Veronica Morris Moore shouted in the centre of the ring of protesters.
By 9.30pm there had been no serious escalation, but tensions rose during brief moments of pushing between police officers and protesters, several of whom were detained. Chicago police confirmed there had been some arrests.
The Guardian is counting the people killed by US law enforcement agencies this year. Read their stories and contribute to our ongoing, crowdsourced project
Earlier, documents filed in court describing the video's contents said that for 14 to 15 seconds the officer – Jason Van Dyke – unloaded his entire gun into the teen, who is seen laying face down on the ground, his arms and legs jerking from the impact of the shots. Of the eight or more officers on the scene Van Dyke is the only one to have discharged his weapon, although a colleague can be seen with his gun drawn and pointed at McDonald.
The video ends shortly after a final puff of smoke rises from the ground and one of the officers moves forward and appears to kick an object from McDonald's right hand.
The footage was released after a dramatic day in Chicago that saw Van Dykeindicted on a first-degree murder charge. He was denied bail at a hearing in the city's main criminal courthouse hours after the state's attorney, Anita Alvarez, announced the charges against him.
Hours later city officials at a hastily arranged press conference condemned the actions of the office
but warned protesters to remain calm.
"People have a right to be angry," said police Superintendent Garry McCarthy. "People have a right to protest. People have a right to free speech but they do not have a right to commit criminal acts."
City officials and community leaders had been bracing for the release of the video showing the 2014 shooting, fearing an outbreak of unrest and demonstrations similar to what occurred in Ferguson, Baltimore and other cities after black men were killed by police. A judge had ordered last week that the footage must be released by 25 November.
"Anyone who is there to uphold the law cannot act like they're above the law," said the Chicago mayor, Rahm Emanuel, at a press conference ahead of the video's release. "I want to say one thing: there are men and women both in leadership positions and in rank and file who follow and live by that principle every day. Jason Van Dyke does not represent the police department."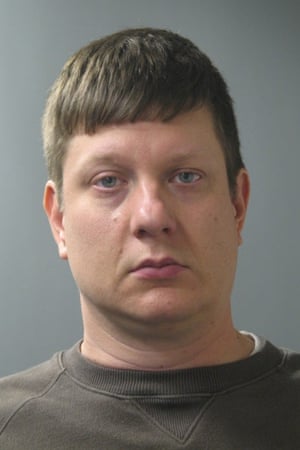 Chicago police officer Jason Van Dyke. Photograph: Getty Images
Brandon Smith, the journalist who won a freedom of information lawsuit leading to the video's release, was barred from entering the press conference, as were several other journalists who did not have Chicago police credentials.
Smith and his lawyer told the Guardian that they were not notified of the video's planned release on Tuesday until seeing it on social media. While standing outside the police headquarters Smith's lawyer Matt Topic was notified by officials via phone that a copy was en route to his office.
The announcement of the murder charge and slow release of details of the video before the actual dashcam footage appeared timed to lessen the chances for violent reactions. McDonald's family has called for calm.
"With release of this video," Alvarez said on Tuesday at a press conference before the video's release, "it's really important for public safety that the citizens of Chicago know that this officer is being held responsible for his actions.
"I have absolutely no doubt that this video will tear at the hearts of Chicagoans."
Since the death of McDonald the Chicago police union and the lawyer representing the officer have maintained that Van Dyke felt the teenager presented a serious danger to himself and other officers.
"I can't speak to why the [other] officers didn't shoot," the lawyer representing Van Dyke, Daniel Herbet, told reporters on Friday, according to the Chicago Tribune. "But I certainly can speak to why my client shot, and it is he believed in his heart of hearts that he was in fear for his life, that he was concerned about the lives of [other] police officers."
Last Thursday a judge had ordered the dashcam recording to be released by 25 November after city officials argued for months that it could not be made public until the conclusion of several investigations.
The video had not been seen by anyone outside of the investigation or city officials until Tuesday – not even by McDonald's mother, who had publicly argued against the release of the video, saying she feared violent protests.
On Monday Emanuel called together community leaders to appeal for help calming the emotions that have built up over the McDonald shooting.
Some attendees of the meeting said afterwards that city officials waited too long after McDonald was shot to get them involved.
"You had this tape for a year and you are only talking to us now because you need our help keeping things calm," one of the ministers, Corey Brooks, said after the meeting.
Ira Acree, who described the meeting with Emanuel as "very tense, very contentious", said the mayor expressed concerns about the prospect of any demonstrations getting out of control.
Another minister who attended, Jedidiah Brown, said emotions were running so high that there would be no stopping major protests once the video was released.
In April 2015 the FBI announced a joint investigation with the Cook county state's attorney's office and the city's Independent Police Review Authority into the shooting. Two days later the city council approved a $5m settlement for McDonald's family, though they had not filed a lawsuit. Chicago's corporation counsel, Stephen Patton, said the footage had prompted the city's decision to settle.
Van Dyke is the first on-duty officer to be charged with murder while working for the Chicago police department in nearly 35 years.
Since the incident Van Dyke has been on paid desk leave while both federal and state investigations into the incident took place.
<button class="vjs-big-play-button" tabindex="0" type="button">
Play Video
</button>
<button class="vjs-play-control vjs-control vjs-button" tabindex="0" type="button">
Play
</button>
<button class="vjs-fullscreen-control vjs-control vjs-button" tabindex="0" type="button">
Fullscreen
</button>
Police officer Jason Van Dyke arrives for court in Chicago on Tuesday
.
Chicago police also moved late on Monday to discipline a second officer who had shot and killed an unarmed black woman in 2012, in another incident causing tensions between the department and minority communities. McCarthy recommended firing officer Dante Servin for the shooting of 22-year-old Rekia Boyd, saying Servin showed "incredibly poor judgment" even though a jury had acquitted him of involuntary manslaughter and other charges last April.
The fears of unrest stem from longstanding tensions between the Chicago police and minority communities, partly due to the department's reputation for brutality, particularly involving black residents. Dozens of men, mostly African American, said they were subjected to torture at the hands of a Chicago police squad headed by former commander Jon Burge from the 1970s to the early 1990s, and many spent years in prison. Burge was eventually convicted of lying about the torture and served four years in prison.
The Associated Press contributed to this report