I like to be fair in debate...so I've been researching cuz school is out for me and I have a little time. So. I read this whole thang...haven't seen another black business person's name Allen is representing...all the shows, production companies, films etc are OWNED by him.
How Byron Allen Gate-Crashed Sundance and Sued Obama's FCC in the Same Week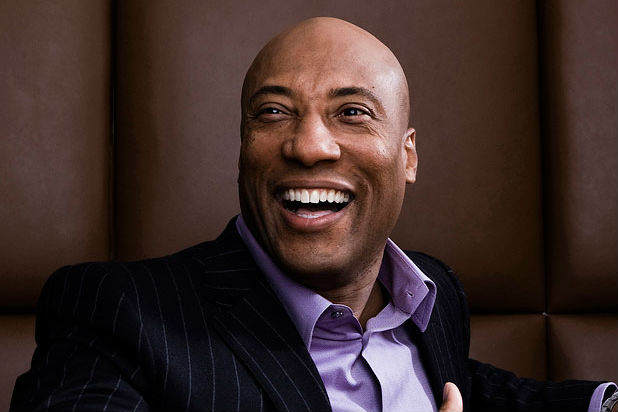 Remember when he was just a comedian? He's not joking around anymore
If you only know Byron Allen as a stand-up comic and host of the syndicated series "Comics Unleashed," you're due for a primer.
Allen has graduated from cracking jokes to media mogul status. In the last five days, the executive stunned Sundance by offering $20 million for Nate Parker's "The Birth of a Nation." He lost the historic bidding war, but helped drive up the price to the record $17.5 million that Fox Searchlight paid for the slave revolt drama.
Undeterred by the loss, he then turned around and dropped a $10 billion lawsuit on the Federal Communications Commission and Charter Communications over the latter's proposed merger with Time Warner Cable.
Allen, who heads what he calls "first studio that happens to be African-American-owned," says Obama and his FCC have "really abandoned the African American community."
[ me talking: Where are his black colleagues he supposedly is REPRESENTING?]
Allen started his company at his dining room table in 1993. How does Allen now have a seat at the Sundance table? And a reason to go after President Obama's regulatory body? Let us explain.
Allen's Entertainment Studios has 40 television shows and specials in syndication, spread across seven 24-hour HD networks carried by the likes of AT&T U-Verse and Verizon Fios. He says that gives him the cash and the cause to pursue both the buzzy film endeavor and a beef with the FCC.
TheWrap reached Allen at the end of his busy week to recap events, and discuss the future of Entertainment Studios.
TheWrap: Many were surprised to see Entertainment Studios in the running for Nate Parker's "Birth of a Nation."
Byron Allen: I went up to Sundance and had a four-hour dinner with an adviser to Nate Parker. I was intrigued and blown away and said, "Let's really focus on this." I knew when that screening was over it was going to be crazy, and we were the first ones on the phone with the agent at William Morris. We took it to $20 million and we tied Netflix. I understand why they went with Fox Searchlight. When I look at it, it's our rookie year but we made the playoffs. Next year we will definitely win the championship.
It certainly grabbed attention. Was that your goal?
Economically, the movie makes great sense given the comps of "The Butler' at $177 million worldwide… and "12 Years A Slave" at $188 million. The good part was worldwide rights were available, and I was very comfortable. I also knew it would be a big statement for us. "Birth of a Nation" was going to be the birth of a studio.
This is the first studio that happens to be African-American-owned, that's able to put out a slate of 15 to 20 pictures a year. We have an output deal with Netflix. When I bought Freestyle Releasing they had that asset in place and that contract has a number of years left on it. To the best of my knowledge, it's one of the only output deals left out there. We have one of the only active ones. It gives us a very competitive edge, and a lot of people didn't realize what I bought when I bought the company.
Which makes YOU a full-service entertainment company, and as you say, the first African-American owned indie studio?
[ me talking... And he's representing whom?]
Yes, we bought a direct relationship with every movie theater in the country, but more importantly a built-in output deal with Netflix, thus creating an independent African-American owned studio. It took until 2015 to get there, but it's a historic moment. When we talk about diversity, it really needs to be achieved thought economic inclusion and distribution. I'm able to have 38 television shows on the air because I learned the distribution side of TV.
I'm dealing directly with stations and advertisers. We're the largest producer of court shows. We have the largest privately held portfolio of TV networks, we have seven, 24-hour HD networks that are carried by AT&T Uverse, Verizon Fios and DirecTV. Now we have our movie division. When we made that offer on ["Birth"] I knew we were economically protected, but I knew it would do really well for awards and into the first quarter of 2017.
[We we we we....haven't seen another black man's name ANYWHERE]
Also Read:Byron Allen Files $10 Billion Lawsuit Against FCC, Charter Communications Claiming Racial Discrimination
You didn't only offer up $20 million in Park City this week. You filed a $10 billion lawsuit against the FCC and Charter Communications, over their proposed merger with Time Warner Cable, claiming racial discrimination against African-American-owned media.
It was something we had to do — President Obama and his FCC have really abandoned the African American community… It's unfortunate that an African America entrepreneur like myself would have to sue the first African American president of the United States for racial discrimination. At the end of the day, he is ignoring the fact that African Americans are suffering economic genocide. It's being played out in the homelessness, the unemployment and even the violence.
[ me talking....Oh so now he mentions violence, economic genocide..but! the noun in front of it is...economic[ that's money!] ]
oh and here's another article
You might feel like you've read this one before – and you have, kind of. Less than a month after Byron Allen got AT&T and DirecTV carriage deals after charging them with racial discrimination in a $10 billion lawsuit, he's got some new targets. Today, both the Federal Communications Commission and Charter Communications were sued for $10 billion in federal court by Allen's Entertainment Studios and the National Association of African-American Owned Media for "racial discrimination in contracting for television channel carriage."
"President Obama and the Democratic Party have completely excluded the African-American community when it comes to economic inclusion," Allen said in a statement Wednesday. "Everyone talks about diversity, but diversity in Hollywood and the media starts with ownership. African-Americans don't need handouts and donations; we can hire ourselves if white corporate America does business with us in a fair and equitable way."
Still haven't seen any other business black person he is supposedly representing. I do see the black shows etc but BYRON OWNS them. All of these are under HIS ownership. And my point is he is DOING THIS FOR HIMSELF. Not the African American Community. That's what he's hiding behind....prior to that? Did he ever represent US when it counted? awwwwwwww that would be NO.
Additionally, I tried to research The National Association of African American Owned Media just see who is on the board and their history and success rate in representing African Americans in media being discriminated against. Was also looking for the time this organization was founded. Nada. You have to register and alldat to get just basic information. And the only thing I saw on its website was Byron Allen's name. And 4 prompts: Contact Us. News. Complaint. And an article. That's it! Organizations like google, facebook, etc all have basic information about its board members in clear view for the public.
Making me wonder if Allen is on their board and if he is in fact the silent founder of this clandestine organization. Cuz I can't understand for the life of me WHY they are NOT giving out public information. Sniff sniff sniff I smell MORE than something fishy. And I understand he's trying to get his feet in but let's call it what it is...shall we? I am offended after all these years with all these black folks dying I haven't heard a WORD from him. Then all of sudden, he wants to bust in and grab some massa's dollars....now he's a black man being discriminated against and throwing other black men who is not coming side under the bus. That's called something...uhhh hummm lemme
MONOPOLIZING in the name of Black people. Wonder how many BLACK executives he has working for him. How many black writers, black producers, black directors, black actors/actresses...not including black comedians? How many BLACK employees he has working in his studios? Sounds to me like he's a one man band...trying to get as much CASH as he can...hiding behind the guise of economic genocide. Cuz if you don't have nothing to hide? You hide nothing. So until I see what is really on with this NAAAO he is in parternship with? I'll stand by my earlier observation.
But!