"I would unite with anybody to do right and with nobody to do wrong."
Frederick Douglass spent his life fighting for justice and equality. Born into slavery in 1818, he escaped as a young man and became a leading voice in the abolitionist movement. People everywhere still find inspiration today in his tireless struggle, brilliant words, and inclusive vision of humanity. Douglass's legacy is preserved here at Cedar Hill, where he lived his last 17 years. Read More
Welcome to the Frederick Douglass National Historic Site!
Tour the Historic House
The only way to get inside Frederick Douglass's home is to be on a guided tour. Rangers lead daily tours at scheduled times.
Celebrate Frederick Douglass's Birthday
Every February, the site celebrates Frederick Douglass's birthday with programs and activities. Find out what's happening this year.
https://www.nps.gov/frdo/index.htm
Places
https://www.nps.gov/frdo/learn...ryculture/places.htm
Cedar Hill: Frederick Douglass's Home in Anacostia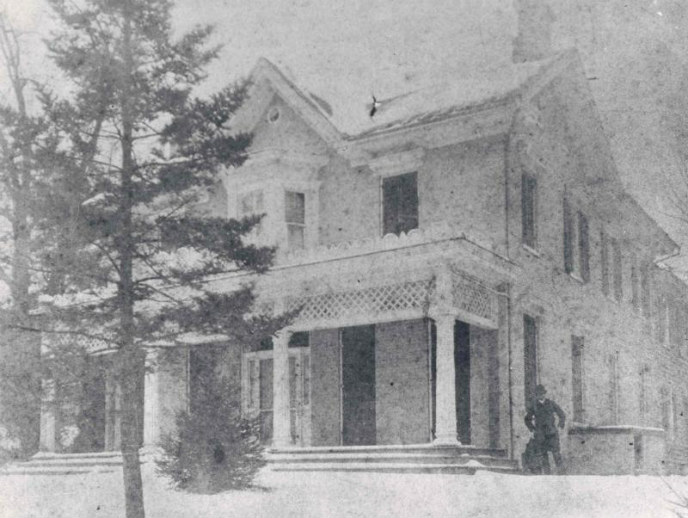 Cedar Hill in February 1887. The man standing near the house is probably one of Frederick Douglass's sons or grandsons.
NPS
Construction of the House
• The house was built between 1855 and 1859 for John Welsh Van Hook, an architect from Philadelphia, Pennsylvania. The house consisted of between 6 to 14 rooms.
• In 1854, Van Hook partnered with John Fox and John Dobler and formed the Union Land Association, whose offices were in the Van Hook home. These developers purchased 100 acres of farmland to form a new subdivision called Uniontown (today Anacostia).
Frederick Douglass at Cedar Hill
• On September 1, 1877, Douglass paid $6,700 to the Freedmen's Savings and Trust company for the home and 9 and ¾ acres of land.
• Douglass purchased an additional 5 and ¾ acres of land from Ella R. Talburtt in 1878.
• Douglass moved into the home with his first wife, Anna Murray Douglass, during the fall of 1878.
• Following the death of Anna in 1882, Douglass married Helen Pitts in 1884 and resided with her at Cedar Hill until his death on February 20, 1895.
• Douglass made a series of additions to the house, dating from 1877 to 1893. By the time of his death, the home was converted into a 21-room mansion.
• The improvements most likely made between 1877 and 1878 included the construction of a two-story, wood-framed addition at the rear of the house. The original kitchen was converted into a dining room and a new kitchen was added to the south wing. Upstairs a partition which divided two rooms on the west side of the house was removed and replaced by two walls to create three smaller bedrooms. Finally, during this period, the attic was finished to create five additional rooms.
• Other additions were made to the home throughout the years and included the building of a new library around 1886 and the addition of a second-story bedroom between 1892 and 1893.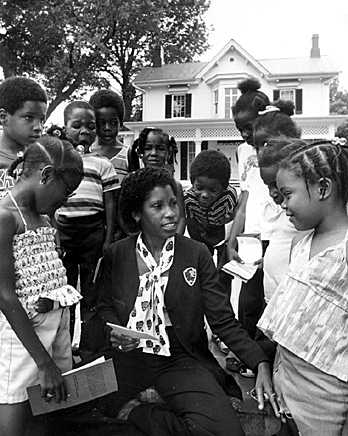 A National Park Service employee talks with young visitors at Cedar Hill in the 1970s.
NPS
Turning Cedar Hill into a Historic Site
• In 1900, at the urging of Helen Pitts Douglass, the U.S. Congress chartered the Frederick Douglass Memorial and Historical Association (FDMHA). Upon Helen's death in 1903, the FDMHA received the property.
• The FDMHA partnered with the National Association of Colored Women to complete the first restoration of the Douglass Home in 1922.
• The FDMHA later petitioned the federal government to become involved in the preservation of Cedar Hill.
• On September 5, 1962, the Frederick Douglass estate became a unit of the National Park Service. Plans for restoration were put forth in 1962.
• The second restoration project was completed in January 1972. The house officially reopened to the public on February 14, 1972.
• Groundbreaking ceremonies were held in September 1980 for the addition of a visitor center to the grounds. The visitor center was completed and opened to the public in February 1982.
• The
most recent restoration
lasted from 2004 to 2007. The site officially reopened to the public on February 14, 2007.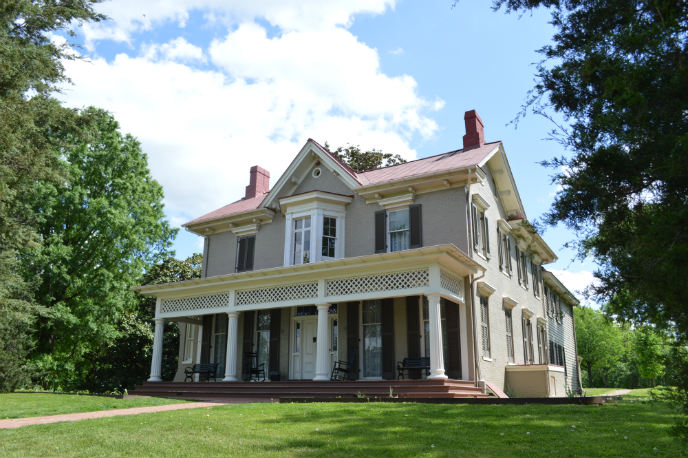 Cedar Hill as it appears today.
NPS
********************************
A Home for a Hero
In Washington, D.C., Frederick Douglass' Cedar Hill honors a life passionately devoted to freedom

Houzz Contributor. Peter Fish is a San Francisco-based writer and editor happiest...
More
Click "Embed" to display an article on your own website or blog.
Photos from Frederick Douglass National Historic Site

I was born in Tuckahoe, near Hillsborough, and about twelve miles from Easton, in Talbot County, Maryland. I have no accurate knowledge of my age, never having seen an authentic record containing it. By far the larger part of the slaves know as little of their ages as horses know of theirs, and it is the wish of most masters within my knowledge to keep their slaves thus ignorant.
Frederick Douglass circa 1879
That's the beginning of one of the great autobiographies in American literature, Frederick Douglass'
Narrative of the Life of Frederick Douglass, an American Slave
. Historians later determined that he was born in February 1818, to a slave named Harriet Bailey; his father may have been the white owner of the farm.
His mother named him Frederick Augustus Bailey. He'd choose the name Douglass later, and under that name, he'd lead a life of astonishing fortitude and valor: escaped slave; brilliant, self-taught orator and writer; and titan of the abolitionist movement. Though his true birthday is unknown, he was said to have celebrated it on Feb. 14.
A gracious 19th-century home in Washington, D.C., named
Cedar Hill
reveals Douglass' life in all its adventure and achievement. It also lets visitors see the private man: husband, father, grandfather, lover of books, travel and music.
When Douglass bought Cedar Hill in 1877, he was 59. Behind him lay decades of hardship, struggle, violence and triumph. Raised by his grandmother — he would see his mother only a few times before her early death — Frederick at age 8 was sent to be the slave of Hugh and Sophia Auld of Baltimore who would serve as a companion to their young son. Sophia taught the boy reading until her husband objected; by age 11, Frederick was teaching himself how to write by copying from the Bible. Soon he was able to read newspapers that promoted Baltimore's infant anti-slavery movement.

At age 20, Frederick became engaged to Anna Murray, a free black woman six years his senior. Fearful that Hugh might sell him, he resolved to escape. Using money from the sale of Murray's featherbed, he bought a ticket on a steamer to Philadelphia, in free territory, and then continued to New York. Murray met him there, and they were married in September 1838. They traveled north to New Bedford, Massachusetts, a haven for blacks and abolitionists.

A Powerful Voice for the Anti-Slave Movement

In New Bedford, Douglass chose his new surname, borrowing it from the Scottish lord in Sir Walter Scott's novel The Lady of the Lake, but adding a second S on the end. Here he began his public career. He began to speak at American Anti-Slavery Society meetings, so compellingly that he was paid to travel around New England — and later in New York state, Ohio and Indiana — telling his own story of slavery and escape. The work had its dangers — in Indiana, a mob beat him and broke his right hand. But he became a national figure, especially after he published his autobiography in 1845.

In the years leading up to the Civil War, Douglass was one of the most powerful voices of the anti-slavery movement, drawing large crowds in the United States and in England, Scotland and Ireland. He founded an anti-slavery newspaper, The North Star. During the Civil War, he pushed President Abraham Lincoln to understand the necessity of emancipating the South's slaves; he also helped recruit black soldiers for the famed 54th Regiment in the Massachusetts infantry.

After the war, he would become president of the National Convention of Colored Citizens and, thanks to his friendship with Susan B. Anthony, a strong advocate for women's rights. By the time he moved into Cedar Hill, he was among the most famous figures in the U.S.
From Subdivision Through Remodels to Historic Landmark

Cedar Hill was built between 1855 and 1859 for a Philadelphia architect named John Welsh Van Hook. It was part of a new subdivision to be named Uniontown, in what is now Washington's Anacostia district. Douglass bought the home in 1877 for $6,700 — about $1.3 million in today's dollars. His books and lectures had made him well-off; he could also afford the new home because he'd been appointed U.S. marshal for the District of Columbia by President Rutherford B. Hayes.

Over the next few years, Douglass acquired surrounding land, expanding his property to 14 acres. He also expanded the living quarters, building a two-story addition on the rear of the house, and turning the original kitchen into a dining room, then adding a new kitchen. The impressive library was completed about 1886. By Douglass' death, Cedar Hill was a 21-room mansion.

After Douglass' death in 1895, his second wife, Helen Pitts Douglass, lobbied the federal government to designate Cedar Hill a historic landmark. It was managed by the Frederick Douglass Memorial and Historical Association until 1962, when it became part of the National Park Service.

Cedar Hill underwent a $2.7 million renovation from 2004 to 2007. Among the most noticeable changes was the home's exterior color. It went from white to the dark beige you see now — the shade chosen to match the color of the home in his last years.
The East Parlor

Cedar Hill has two parlors — the informal West Parlor, reserved for family and friends, and the more formal East Parlor. By the time Douglass moved into Cedar Hill, he was a nationally known figure who numbered many of the nation's most prominent politicians, journalists and social activists among his acquaintances. These visitors would be ushered into the East Parlor after first presenting their calling cards to Cedar Hill's doorman.

The Sarah J. Eddy portrait shown here hangs in the home's East Parlor and shows Douglass during the time he lived here.
But the East Parlor could also be a place for fun. Douglass enjoyed checkers, and an 1895 checkers game is still on display (above). He might entertain guests by playing music on his music box. Also here is Eddy's 1883 oil portrait of Douglass, which after Douglass' death was owned for many years by civil rights activist W.E.B. Du Bois. The striking palm-patterned, yellow-and-lime-green wallpaper here and in the West Parlor was added during the home's 2007 renovation — its Caribbean theme pays tribute to Douglass' 1880s service as consul general to Haiti.
The West Parlor

Cedar Hill was a busy place. Along with his important guests, Douglass also frequently hosted the 21 grandchildren of his five children (two daughters, three sons). Much of this family fun took place in the West Parlor, also known as the sitting room.
It was a room filled with music. Douglass' daughter Rosetta played the Kimball upright piano. Both Anna and Frederick Douglass played the violin: his repertoire extended from slave songs he'd learned as a boy to Haydn and Schubert.

Douglass, an accomplished violinist, passed on his musical gifts to his children and grandchildren.

The violin on display in the West Parlor was owned by his grandson Joseph Douglass, who became a noted classical performer.
One of the most striking objects on display in the West Parlor is a clock given to Douglass by a close friend, German journalist and women's rights advocate Ottilie Assing.

While the clock itself was made in Switzerland, the carving it rests in was done by Eddy, who also painted the portrait of Douglass that hangs in the East Parlor.
The Library

If the West Parlor was the heart of Cedar Hill, the library was its soul. As a child, Douglass had to battle to learn to read and write; as a man, his gifts as public speaker, journalist and memoirist would earn him political power, a respectable living and, in the end, literary immortality.
Douglass spent up to five hours each day in this room, writing letters, speeches, articles and working on his third autobiography, Life and Times of Frederick Douglass, which was published in 1881.

The library today is much as Douglass left it. The shelves are filled with nearly 1,000 books on history, science, government, law, religion and literature. His chair dates from 1857 and was originally used in the House of Representatives; Douglass bought it from a furniture dealer in the 1870s.

Walls are decorated with portraits of people Douglas admired — among them, Joseph Cinque, who led the famed 1839 revolt on Spanish slave ship La Amistad, and friend and women's rights advocate Anthony.
Douglass was an avid collector of canes. Among those on display is one previously belonging to President Lincoln. It was given to Douglass by Mary Todd Lincoln after the president's death.
Kitchen and Dining Rooms

When Douglass expanded Cedar Hill, he moved the kitchen inside the house — unusual for the 1870s, when most kitchens were built separately to keep kitchen fires from spreading to the main structure. The innovation meant that Douglass initially had trouble buying fire insurance for his new home. While not original, the coal stove is similar to the one that would have been used by the Douglass family. Anna was a good cook, famous within her family for her biscuits.
The adjacent dining room is Cedar Hill's largest room — appropriate for a man who loved people and loved to entertain. Frequent guests included college students from Howard University, where Douglass served on the board of trustees. Favorite meals included oysters, turkey and mutton — but no wine or beer, as Douglass drank no alcohol.
The Bedrooms

Cedar Hill contains six bedrooms on its second floor: Douglass' own bedroom; a bedroom each for his first and second wives; ladies' and men's guest bedrooms; and one bedroom named for one of Douglass' grandsons, Haley George.

Douglass' bedroom contains his Renaissance Revival bed, along with personal items including a set of dumbbells he used as part of his daily exercise routine; he also took regular walks around his property.
Across the hall were the women's bedrooms. By the time the Douglasses moved into Cedar Hill, Anna's health was failing, and she spent most of her time in her bedroom, shown above. She died here in 1882; after her death, Frederick closed up the room. Two years later, he married 46-year-old abolitionist and women's rights advocate Helen Pitts, who lived on her uncle's property next door and whom he had hired to help him in his new job as Washington D.C.'s recorder of deeds. Because Douglass was black and Pitts white, the marriage sparked national controversy within both the white and black communities.
On Feb. 20, 1895, Douglass returned to Cedar Hill after delivering a speech, suffered a massive heart attack and died. After his death, Helen worked to have Cedar Hill preserved as a historic landmark.
Visiting Cedar Hill
Frederick Douglass National Historic Site
is located at 1411 W St. S.E. in Washington, D.C. The house can be seen only on 30-minute guided tours. Tour reservations are recommended and can be made at
recreation.gov
or by calling (877) 444-6777.
More
John Muir's California Home
Hamilton, the House!
Other noteworthy homes